February 12, 2018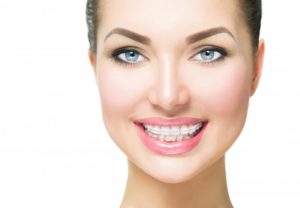 For years you've suffered from not having the smile that you've desired, but you now have a chance to straighten your misaligned teeth in a way that won't leave you feeling like the whole world is staring at your mouth. With ceramic braces of McMurray, you'll be able to gain the look that you've always desired in a discreet way, but your dentist warns that although they are clear, they can be stained if not properly cared for. So as you continue reading, learn what the 7 best practices to prevent discoloration.
What are Clear Braces?
Clear braces of McMurray are a newer innovation in the world of dentistry. They allow you to get the same benefits of their traditional counterparts without the appearance of silver metal brackets and wires. This is because they are made from a ceramic material that's clear and virtually unnoticeable.
The process works just like traditional braces where your dentist will place an arch wire that snaps into brackets. They are then tightened over time to encourage your teeth to continue moving to their properly aligned position.
Although this process is accommodating to your aesthetic appeal, there are some practices that will ensure that you maintain the look you desire.
7 Tips to Prevent Staining
The following are tips that you should keep in mind to protect the appearance of your clear braces:
Frequent Brushing – Whether wearing braces or not, frequent brushing is always recommended. This leaves your mouth clean and free of bacteria and will remove leftover food particles before they settle in and cause stains.
Floss and Rinsing – It's also important to floss using a Waterpik, which is an alternative to the normal flossing technique you would use while still allowing you to get into hard-to-reach places. After flossing then rinse thoroughly to remove any excess debris.
Say No to Smoking – Tobacco use will definitely stain your braces and ruins all of your oral hygiene efforts by encouraging gum disease and oral cancer. The last thing you want to do is gain straight teeth that are now suffering from decay and discoloration.
Avoid Foods that Stain – There are certain foods that are more prone to stain your teeth, so it's best to alleviate them from your diet while wearing your clear braces. For example, the yellow hue of mustard and red of tomato sauce are especially difficult on your braces and will cause discoloration.
Avoid Whitening Toothpastes – As tempting as it may be to use whitening toothpastes while wearing your braces, this is definitely something you want to avoid because although the bleaching agents may brighten areas of your teeth, you run the risk of having spots where your brackets were located when your braces are removed.
Get Your Ligatures Changed – The ligatures are the elastic ties around your brackets. In most cases, this part will be clear as well, so it's recommended that your dentist changes them throughout your treatment process so that you can maintain a fresh look.
Maintain Appointments – You definitely don't want to slack on maintaining your dental visits while wearing clear braces because at these appointments your dentist will adjust your braces and monitor the look of your ceramic brackets for any changes that may need to be made.
The clear braces method offers you a chance to get an award-winning smile without the hassle of attracting any undesired attention. Instead, the people you encounter will just see a smile that keeps getting better and better. If you have any questions about the process, just reach out to your local expert so that you can feel the euphoria of having perfectly aligned teeth.
About the Author
A member of the American Association of Orthodontics and a Diplomate of the American Board of Orthodontics, Dr. Gary Cartwright has over 20 years of experience practicing orthodontics. He received his Doctor of Dental Medicine degree from the University of Pittsburgh and his degree in orthodontics from the University of New York. Dr. Cartwright practices at Cartwright Orthodontics and can be reached for more information through his website.

Comments Off

on 7 Tips to Prevent Staining of Your Braces of McMurray
No Comments
No comments yet.
RSS feed for comments on this post.
Sorry, the comment form is closed at this time.