January 11, 2022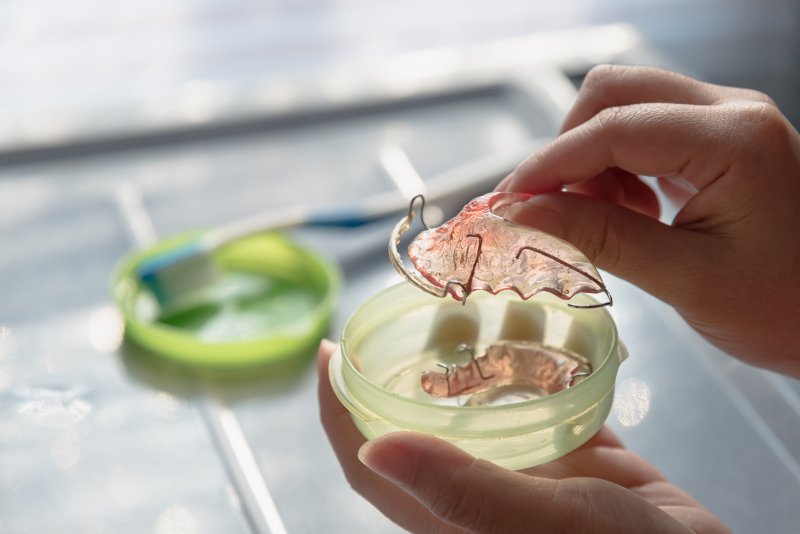 After finishing your Invisalign treatment, you'll be given a retainer to help preserve your hard-earned results. It's incredibly important that you wear it as instructed by your orthodontist. Otherwise, your newly straightened teeth will start to gradually shift back to their original misaligned positions. If you weren't diligent about wearing your retainer the first time around, you might be wondering if using it again will help realign your teeth. Read on to learn why you should consult with your dentist or orthodontist before you think about using your old retainer again.
The Importance of Retainers
First and foremost, it's crucial to understand why you must wear a retainer after finishing Invisalign treatment. The custom mouthpiece is used to stabilize the position of your teeth, keeping them from changing positions once you're done with orthodontic treatment. Since your pearly whites can naturally shift from normal everyday activities (like chewing), a retainer will prevent that from occurring. The orthodontic appliance will ensure that your teeth stay in position while new tissue and bone grow to secure them in place.
Can Retainers Re-Straighten Your Teeth?
Short answer: no, your old retainer cannot realign your teeth. It cannot apply the steady force needed over time to move your teeth back into their aligned positions. The custom mouthpiece is simply designed to hold your pearly whites in place. However, it's worth noting that if you've neglected to wear your retainer for a few weeks or months, it can help undo any shifting that's occurred since you last wore it. Make sure that you schedule an appointment with your dentist or orthodontist if your retainer doesn't fit snugly or causes pain.
How to Properly Care for Your Retainer
Taking proper care of your retainer and wearing it as instructed is the key to keeping your teeth and bite in alignment. Here are some tips to keep in mind:
Thoroughly brush your retainer after each meal. Make sure you use non-abrasive toothpaste to avoid damaging your oral appliance.
Rinse your retainer with cold water after each use.
Avoid hot water and environments as they could warp your retainer, causing it to fit improperly.
Keep a storage case with you at all times to keep your retainer safe while it's not in use.
Do not put your retainer in a napkin or set it down on a countertop. Otherwise, it may get thrown away accidentally.
Keep in mind that retainers are meant to retain your smile, not fully adjust it. While it can be hard to remember to wear your retainer as recommended, doing so will keep your teeth in their ideal positions for as long as possible!
About the Practice
At Cartwright Orthodontics, we are passionate about helping patients achieve their healthiest, most beautiful smiles. From your initial consultation to your final Invisalign appointment, you can expect our team to be there for you every step of the way! If you have any questions about your retainer, visit our website or call our office.
Comments Off

on Can Your Old Retainer Realign Your Teeth?
No Comments
No comments yet.
RSS feed for comments on this post.
Sorry, the comment form is closed at this time.