February 5, 2022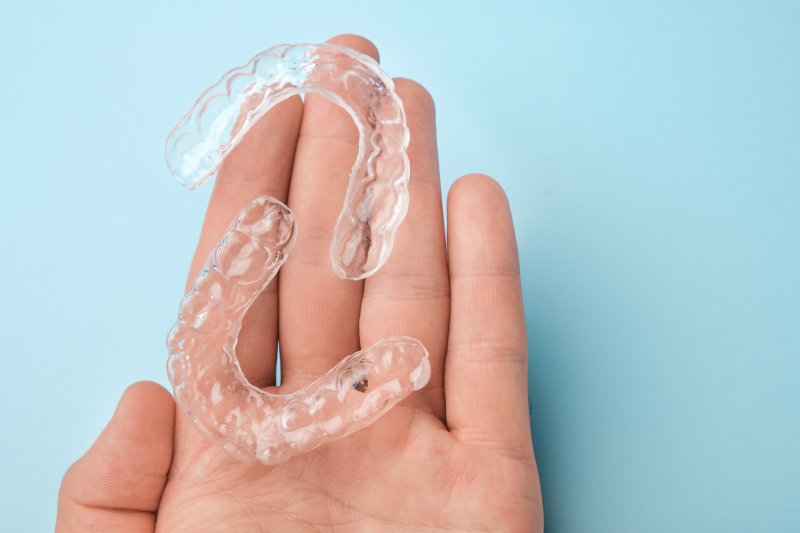 Now that you have clear aligners, you are probably curious as to how you should take proper care of them. Because they're a flexible orthodontic solution that allows you to remove them before eating and drinking, it's essential that you understand what steps you should take to ensure the health and safety of these clear trays. In this article, we'll look at four ways you can take better care of your smile and your aligners and avoid a possible delay in treatment.
Clean Your Teeth Before Reinserting Your Trays
It's important that you properly clean your teeth before reinserting your trays after eating. Brushing and flossing will help to remove any food particles from your teeth and gums that might otherwise become trapped underneath your aligners. If this happens often, it can lead to tooth decay and gum disease. Also, you don't want bad bacteria transferring onto your trays.
Never Use Toothpaste to Clean Your Aligners
Using normal toothpaste to clean your trays will only scratch them. Why? Because it is highly abrasive. If you want your aligners to remain clear and discreet, you'll need to make sure you're using clear soap or a specialized cleaner that is designed for removable braces. This will protect your trays from serious damage and keep your treatment subtle and void of anyone noticing your braces.
Keep a Protective Case Nearby
Each time you remove your aligners, it is best to keep them in a protective case. Not only will this prevent harmful particles from settling on your trays, but it always reduces the chances of serious damage or loss. Some people tend to wrap up their aligners in their napkins; however, this can lead to them being accidentally thrown away.
Instead, just keep them in a nearby protective case and feel more confident knowing your clear aligners are in a safe place.
Soak Your Aligners Once a Day
Apart from regularly rinsing and cleaning your trays, you should also plan to soak them once each day. You can opt for a denture cleaner or a specialized aligner product. Once they are finished soaking, you'll need to remember to brush them thoroughly using a soft-bristled toothbrush to remove plaque and accumulated bacteria. You can then freely reinsert them into your mouth and continue with treatment.
By adhering to these simple tips, you can feel confident knowing you're taking proper care of your clear aligners, which will allow you to see your results much quicker in the end.
About the Author
Dr. Gary Cartwright is a board-certified orthodontist who has more than 25 years of experience in the field. Earning his Doctor of Dental Medicine from the University of Pittsburgh, he went on to earn a degree in orthodontics from the University of New York, Stoney Brook in 1994 before earning his board certification from the American Board of Orthodontics in 2005. Offering clear aligners to patients who prefer a less noticeable form of treatment, he and his team are eager to help individuals see straighter, more beautiful smiles. If you're interested in learning how clear braces can help you, visit our website.
Comments Off

on 4 Ways to Care For Your Clear Aligners
No Comments
No comments yet.
RSS feed for comments on this post.
Sorry, the comment form is closed at this time.