February 6, 2019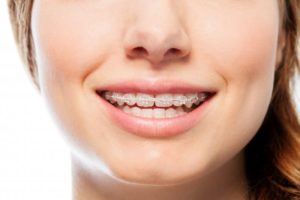 You have some bite flaws that need to be corrected, but you have somewhat of a dilemma: you don't know much about the available methods. Two viable forms of orthodontic treatment are metal and clear braces in Bethel Park, but which one is the right choice for you? To learn about each procedure and their pros and cons, continue reading.
How Traditional Braces Work
The most common type of orthodontic treatment, metal braces offer a sure way to correct your bite using metal brackets that are bonded to the teeth. A sturdy wire is attached that provides the necessary tension to each set of teeth and bands help to safely adjust the position of the jaw.
The Pros of Traditional Braces
The main advantage of metal braces is their proven track-record of correcting even the most difficult types of malocclusion (poor bite), which include crowding, misalignment and gaps.
Another advantage is the sturdy construction of the appliances, which consists of stainless-steel brackets that are made to endure the harsh environment of the mouth.
How the Clear Braces Process Works
Clear braces offer the same corrective benefits as metal braces, and they are bonded to the teeth in the same manner. The difference, however, is the former use a clear, ceramic material for the brackets.
The Pros of Clear Braces
The obvious benefit of clear braces is they provide a more discreet treatment process. There is still another notable perk, though.
Unlike other forms of aesthetic orthodontic treatment like the Invisalign clear aligner method, ceramic braces still offer the advantage of having an archwire placed that applies the precise amount of continuous tension. Thus, you can rest assured that your teeth will be effectively adjusted.
Which Process is Better?
The traditional braces process is reliable, but it requires patients to wear noticeable components that could draw unwanted attention to the mouth. The clear braces method also has some disadvantages: the brackets are bigger, and ceramic isn't as durable as stainless-steel.
The final decision, though, about which procedure is best for you will come down to your personal needs, desires and the expert input of a local orthodontist.
Why It's Good to be Proactive
No matter which form of orthodontic treatment you decide to go with, the most important thing is to take action. When you receive either form of braces in Bethel Park, you stand to benefit in the following ways:
There will be less chance of premature wear to your teeth.
You can better chew your food, which means improved digestion.
Having a better-looking smile also provides a natural confidence boost and amounts to more positive first impressions.
So if you're ready to make a positive change, the smile of your dreams is just a visit away!
About the Author
Dr. Gary Cartwright earned his dental degree from the University of Pittsburgh. He then received his degree in orthodontics from the University of New York. A board-certified specialist, Dr. Cartwright has been providing top-notch care to his patients for the past 20 years. He places braces at Cartwright Orthodontics, and he can be reached for more information through his website.

Comments Off

on Metal or Clear Braces in Bethel Park – Which Type is Better?
No Comments
No comments yet.
RSS feed for comments on this post.
Sorry, the comment form is closed at this time.