October 23, 2022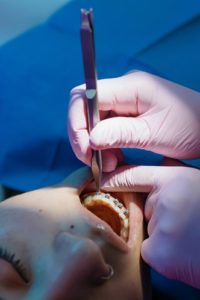 Did you know 1 in 5 orthodontic patients is over the age of 18? It's never too late to invest in a healthy, straight smile with traditional braces. Following your orthodontist's instructions, like brushing and flossing, will prevent any delays in your journey to a better smile; however, accidents can happen. Although you might not expect any orthodontic emergencies, it's best to plan ahead just in case. Here's what you need to know to prevent an orthodontic emergency from interrupting your day.
What's Considered an Orthodontic Emergency?
Orthodontic emergencies can take many forms, like a broken wire or a loose bracket. Although it may not seem concerning, a bracket or wire can protrude into your gums or other soft tissues, causing inflammation, pain, sores, and even infections. Not to mention, it can stall your treatment plan.
Besides issues with braces, complications with retainers can also require urgent attention, especially if it's a bonded device. Discontinue using broken retainers to avoid oral injuries. Don't wait too long to see your orthodontist for repairs or replacements to prevent your teeth from moving back into their previous positions.
How to Prevent Dental Emergencies
You can't always prevent orthodontic emergencies, but you can take several steps to lessen your risk of one, like:
Watch What You Eat: Your orthodontist discussed a list of foods to avoid because they can cause wires to come loose or brackets to pop off, like gum or popcorn. It's best to skip hard and sticky foods to prevent an unplanned visit to your orthodontist.
Use Dental Wax: It's not uncommon for a bracket or wire to rub on the surrounding tissues, like the insides of your cheeks, which can cause pain, sores, and infections. Your orthodontist can give you dental wax to reduce friction.
Wear an Athletic Mouthguard: If you play sports or partake in high-velocity activities, ask your orthodontist for a mouthguard. It will protect your braces, teeth, and gums if there's any injury or trauma to your mouth.
Protect Your Retainer: Always place your removable retainer in its storage case when you're not wearing it.
Don't forget to commit to your oral hygiene routine to keep your teeth and gums healthy. Brush your teeth after eating and floss at least once daily. Maintain your regular appointments for adjustments to ensure there aren't any unnecessary complications in your treatment.
Handling Orthodontic Emergencies
If the unexpected should happen, don't panic! Contact your orthodontist and explain the situation. They'll walk you through first-aid at home and get you into the office quickly, so nothing stands in your way of achieving your best smile.
About Dr. Gary Cartwright
Dr. Cartwright achieved his dental degree from the University of Pittsburgh and continued his education to become a board-certified orthodontist. With over 25 years of experience, he can treat the most complex issues, including orthodontic emergencies. Whether a bracket popped off or you lost your retainer, contact our office right away to request an appointment.
Comments Off

on Tips for Preventing Orthodontic Emergencies
No Comments
No comments yet.
RSS feed for comments on this post.
Sorry, the comment form is closed at this time.