January 18, 2023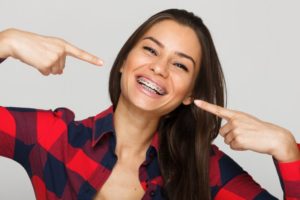 Traditional braces have been the most common—and successful– orthodontic treatment for many years to achieve a straighter, aligned smile! From minor gapping to severely rotated teeth, they can fix a range of dental issues. Although braces can help you achieve the smile of your dreams, it's no secret that they also can cause mouth sores. Read on to learn tips on how to prevent and manage mouth sores caused by braces.
How Can Mouth Sores Be Prevented While Wearing Braces?
As the wires and brackets rub against the inside of your cheeks and lips, they cause irritation, leading to sores. Even minor irritation can lead to mouth ulcers. Here are several methods to drastically minimize the chances of getting them:
Maintain a clean mouth— Be sure to brush at least twice a day, floss daily, and visit your dentist every six months for checkups and cleanings. This will clear out any debris or bacteria that might aggravate the irritated tissues.
Use dental wax— Place dental wax on any areas that poke and cause irritation. This will form a protective barrier between the braces and your mouth and go a long way in preventing mouth sores.
Drink lots of water— A dry mouth can cause an abrasion to grow worse over time. By drinking water, you can promote saliva production and avoid dry mouth to minimize your risk of mouth sores.
3 Ways to Manage Mouth Sores Caused by Braces
Despite all your best intentions, sometimes a sore will still form throughout your treatment process. Luckily, there are several measures you can take to alleviate the discomfort and keep the issue from getting worse. Here are some best practices:
1. Take Over-the-Counter Pain Relievers
If you have a large mouth sore, then the ideal option may be to take over-the-counter pain medications. They can help keep you comfortable while you go on to implementing the next steps.
2. Rinse with Salt and Warm Water
Mixing salt and lukewarm water creates a natural disinfectant for your mouth. Not only will this reduce swelling and minimize discomfort, but it'll also eliminate bacteria.
3. Limit Acidic and Sugary Foods
Foods that are high in sugar and acidity can often exacerbate existing mouth sores. Try to minimize treats like ice cream, candy, sodas, and other sweet or acidic foods. Having mouth sores while wearing braces can cause a damper on your everyday life.
With these helpful tips from your orthodontist, you can minimize the chances of developing mouth sores so you can enjoy a healthier and stress-free process toward your straight smile!
About the Author
Dr. Gary Cartwright and his team are eager to help you achieve your ideal smile! He is a board-certified orthodontist and received his Doctor of Dental Medicine from the University of Pittsburgh. With over 25 years of experience, he provides a full range of orthodontic treatments, including traditional braces. If you need help with your current treatment or would like to schedule a consultation, contact him through his website or call (412) 833-6188.
Comments Off

on How to Prevent & Manage Mouth Sores with Braces
No Comments
No comments yet.
RSS feed for comments on this post.
Sorry, the comment form is closed at this time.