May 11, 2018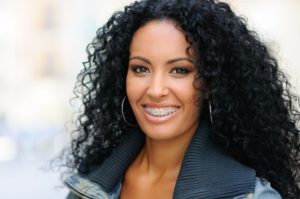 If you've been wanting straighter teeth, then getting braces from your local orthodontist in Murray may be the best way to improve your smile. But when you think about braces, you think about old friends complaining about their smiles being sore or how they can't enjoy your food. It stops you in your tracks every time.
Hopefully, after reading this week's blog post, you'll have a better idea of whether braces are for you and how your treatment will most likely be.
Do Braces Hurt?
When you first get braces, the process can be a bit uncomfortable for the patient because it takes 1 to 2 hours, but afterward, you're all set to go with your orthodontic treatment! There should be little to no pain when braces are first applied to your teeth.
Because the metal brackets and wires are foreign to your mouth, it will take some adjusting to get used to, but it shouldn't be painful. There may be a slight soreness in the teeth as there are brackets that are already working to guide your smile into its correct positions.
Adjusting to Your New Braces
As mentioned above, you'll need to adjust to a lifestyle that includes your orthodontic treatment. Before you eat, you'll have to think about whether or not your braces will be affected. It's best to start out with softer foods (like yogurt, cheese, or soups).  If you do experience any discomfort or poking from eating (or otherwise), you can ask your dentist about orthodontic wax and how to use it to cover uncomfortable parts of your orthodontic treatment.
How to Deal with Tightening Your Braces
It is not uncommon for your braces to feel uncomfortable right after you are tightening appointment. After all, tightening applies a new force to your teeth to keep them moving into position. This can make them sensitive just as if you go them on for the first time. For the first few days after getting your braces tightened, it can help to eat softer foods again.
Tips for Dealing with Braces
Braces can be uncomfortable, but it's only for a brief period of time. You can use these helpful tips to manage the discomfort until you finally have the straight smile you've been desiring:
Eat soft frozen treats to relieve discomfort.
Try a topic analgesic to numb discomfort.
Use over-the-counter medication in moderation. This typically isn't necessary, but it can help.
Use orthodontist's wax to cover sharp edges or wires that bother you.
Ask your dentist about the best foods and drinks to have and what to avoid to ward off dental damage.
Exercise your mouth by chewing. The more you move your mouth, the faster it will adjust to its new positions.
If all else fails, have your orthodontist "un-tighten" your braces. This may prolong your orthodontic experience, but your dentist will never want you to feel so uncomfortable that you're in constant pain.
---
About Our Office
Here at Cartwright Orthodontics, we want to help you complete your treatments and procedures in a painless way. If you ever feel uncomfortable or need to reverse a treatment, we're more than happy to do so for you. Contact us today if you have a question or concern regarding braces.

Comments Off

on Does It Hurt to Visit an Orthodontist in Murray for Braces?
No Comments
No comments yet.
RSS feed for comments on this post.
Sorry, the comment form is closed at this time.