January 30, 2017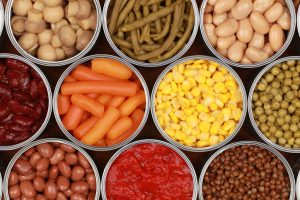 The last thing anyone wants during the holidays is an empty table. Unfortunately, this is a reality for many families in South Pittsburgh who can't cover their basic needs this time of year. In the spirit of the season, South Pittsburgh orthodontist, Dr. Gary Cartwright, and his team run a food drive every November and December to help local families. We're happy to report that it was a resounding success, and want to share a little more about how our patients reached into their hearts to help the less fortunate in their community.
Over 500 Items Donated!
Each holiday season, we ask our patients to donate non-perishable food items, and we always strive to do better than we did the previous year. We are so proud to say that we were able to collect and donate 519 food items this year to the South Hills Interfaith Ministries and the Washington Community Food Bank, making it much easier for many families to enjoy their holiday season.
In order to make the most of the generosity of our patients, Dr. Cartwright donated $1 for each item that was brought in, as well as gave each patient a bonus buck for their donations that can be used towards his services. It was his own small way to help his community and thank his patients for their generosity at this special time of year. We're proud to be a practice that is involved in its community, and we look forward to doing this again in 2017 and hope to donate even more.
Who You Are Helping When You Donate
Here is a little more about the places that received our donations this year:
South Hills Interfaith Ministries: "Born nearly fifty years ago by (no kidding) a priest, a rabbi and a minister, SHIM has been providing food, clothing and services to people in need in Pittsburgh's southern suburban neighborhoods ever since. Faced with unprecedented new levels of suburban poverty, SHIM is expanding its work to include more neighbors helping more neighbors in need.
Together, with teams of dedicated volunteers, donors and partners, we're working to reduce the devastating effects of suburban poverty among the working poor, unemployed, families, single parents, senior citizens, women, and the high concentration of refugee families in our service area."
Washington Community Food Bank: "For over 33 years, the Greater Washington County Food Bank, a non-profit organization, has been providing groceries and nutritional information/education to food insecure residents of Washington County. It is estimated that Washington County currently has over 25,000 people who are food insecure.  While we don't distribute food from our home office; we do distribute food through our network of 45 distribution sites and 7 agencies located throughout the county. We also support several after school food programs that help ensure food insecure students have something to eat over the weekend.  Currently over 30% of our recipients are children under the age of 18, and over 20% are seniors. We rely primarily on community support to meet these objectives in a caring and compassionate way."
We are happy to work with these organizations and look forward to helping them even more in the future.
Looking Ahead
Even though the food drive was a success, we will continue to put in more effort this coming year to help the people in our community who need it most.
If you'd like to know more about how you can donate to these organizations, please contact them through their websites, and keep an eye on our site for more events with your orthodontist in South Pittsburgh in the future.

No Comments »
No comments yet.
RSS feed for comments on this post.
Leave a comment