March 19, 2021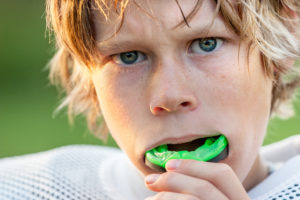 If you participate in sports or any other physical activity, you may feel like orthodontics simply aren't a viable option. Can you still play sports with braces? Will your orthodontics affect how well you play? These are valid questions that deserve answers. That's why your orthodontist has included some important information on sports and braces as well as what you can expect during your orthodontic treatment. Read on to learn more!
Can You Play Sports with Braces?
Yes! Athletes all over the world, both professional and amateur, have orthodontics. The best part is that braces won't affect your ability to compete. Of course, orthodontics come with some discomfort and soreness at first, but this won't impact your level of play.
Keep in mind that a large number of superstar athletes get orthodontics so they're ready to smile for the cameras in interviews, on TV, and in public. A prime example is Cristiano Ronaldo – one of the best soccer players of all time, and the leading goal scorer out of all active players. He played at the highest level while also straightening his teeth. Now, he's known for his attractive and infectious smile.
What to Expect During Your Orthodontic Treatment
Thanks to modern orthodontics, it's easier than ever to straighten your teeth without affecting the rest of your life. Traditional braces are bonded to your teeth and involve metal brackets and wires. However, there is a more discreet and comfortable alternative: Invisalign clear aligners. This involves a series of clear plastic aligning trays that are designed to gradually shift your teeth into place. Invisalign usually takes 8 to 18 months to complete, while braces often take 1 to 2 years. Of course, your orthodontist offers both options to treat various degrees of misalignment. Plus, both of these solutions can be worn during sports!
Protecting Your Smile from Damage
The latest technology allows orthodontists to offer mouthguards (also known as sportsguards) that are specifically designed for patients who have braces. Whether you participate in football, basketball, ice skating, or any other physical activity, it's important to keep your smile protected so you can stay on track with treatment. Wearing an orthodontic mouthguard will lower your risk of damage to your braces and teeth.
When it comes to sports and orthodontics, you don't have to choose! Thanks to modern treatments like mouthguards designed for braces, you can get the smile of your dreams without losing your competitive edge!
Meet the Orthodontist
Dr. Gary Cartwright has been providing amazing orthodontic treatments to patients in Southwestern Pennsylvania for over 20 years. During dental school, he was the recipient of the International College of Dentists Award for Outstanding Clinical Excellence. He then went on to get his Board Certification from the American Board of Orthodontics in 2005. To schedule an appointment, he can be reached through his website or by phone at either of his McMurray or Bethel Park locations.
Comments Off

on Can You Play Sports with Orthodontics? Find Out Here!
No Comments
No comments yet.
RSS feed for comments on this post.
Sorry, the comment form is closed at this time.