October 31, 2021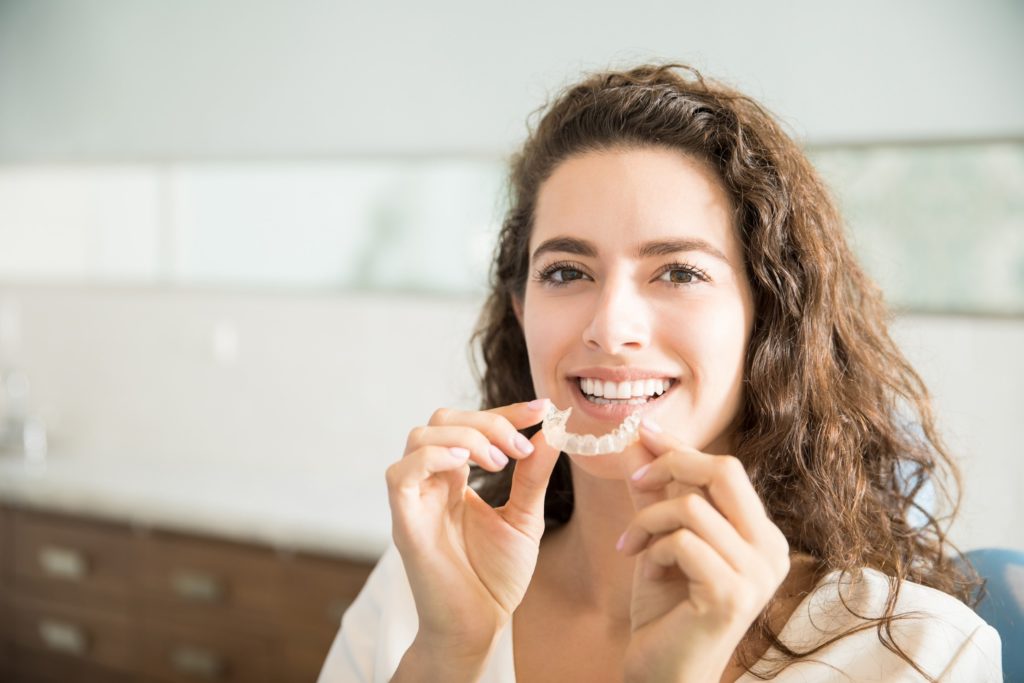 Thanks to advancements in the field of orthodontics, straightening your teeth no longer requires you to wear metal brackets and dark-colored wires. Now, you can use discreet, effective, comfortable clear braces to do the job! With that being said, it's important to do your research when determining which teeth-straightening treatment is right for you. So, keep reading to learn five things you should know before getting clear braces.
#1. The Recommended Wear Time Is 22 Hours
Since clear braces are removable, many patients are under the impression that they can take them out anytime they want. In reality, the wear time is 22 hours a day – that only leaves room to take them out when you eat and brush your teeth! Meeting this recommended wear time is crucial because your aligners need an ample amount of time to guide your teeth closer and closer to their ideal positions.
#2. Brushing More Often Is Crucial
Right now, you might only brush your teeth twice a day. With clear braces, you should brush after each meal and snack. This will prevent food particles and plaque from lingering on your teeth between meals and also keep your aligners clean and pristine.
#3. Rinsing with Hot Water Is a No-No
Rinsing your aligners when you take them out and before you put them back in helps keep them fresh and clean. However, rinsing with hot water can warp their shape, rendering them virtually useless. Therefore, it's of the utmost importance that you only use cold water.
#4. You May Need "Refinement Aligners"
During your orthodontic treatment, it's natural to be anxious to see your results. In many cases, patients need additional "refinement aligners" for any stubborn teeth. Although this can add a few more weeks or months to your treatment, it's a crucial part of achieving your dream smile.
#5. You Must Choose Your Lipstick Wisely
Do you love to dress up your look with a nude lipstick? Maybe you even opt for a bold purple or bright red during the holiday season. If so, you may want to switch to a clear gloss or smudge-free lip-stain with clear braces. After all, the last thing you want is for your discreet clear aligners to have caked-on makeup when you smile!
Clear braces are an amazing orthodontic treatment – that's why millions of people choose them each year! To ensure you are as prepared as possible, don't hesitate to ask your dentist questions during your initial consultation. That way, you have the comfortable, effective, stress-free experience you deserve.
About the Author
Dr. Gary Cartwright earned his dental doctorate from the University of Pittsburgh, and he's been helping patients on their journey to their dream smiles ever since! And his commitment to his patients hasn't gone under the radar either. In fact, for five consecutive years, he has been recognized by Pittsburg Magazine as a "Top Dentist." So, if you're interested in getting clear braces, he's the professional to trust. To schedule an appointment with him, don't hesitate to visit his website or call 724-942-5130.
Comments Off

on 5 Things You Should Know Before Getting Clear Aligners
No Comments
No comments yet.
RSS feed for comments on this post.
Sorry, the comment form is closed at this time.