June 2, 2023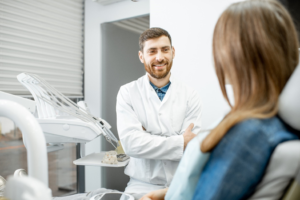 Whether you've just recently decided to pursue orthodontic treatment or you've been contemplating it for a while, there's likely quite a lot on your mind—after all, straightening your smile is a pretty big commitment! That said, knowledge is power; the more you know about orthodontic treatment, the better you'll feel about committing to it and ensuring that things go as planned. Here are a few must-ask questions for you to keep in mind going into your initial orthodontic consultation that your provider will be happy to answer!
#1: What Treatment Options Are Available?
During your appointment, your orthodontist will examine your mouth to determine which treatment options are viable possibilities. This examination often includes X-ray imaging for added thoroughness. Patients without major orthodontic needs are usually ideal candidates for clear aligner therapy like Invisalign, whereas those with severe cases generally require traditional braces. In any case, your provider will give you a rundown of all the available options that suit your needs and help you to make an informed decision.
#2: How Much Will Treatment Cost?
Many patients have financial-related concerns going into orthodontic treatment; however, you shouldn't let the potential cost of care deter you from receiving braces if you need them! Many practices work with numerous insurance providers and also offer flexible payment options to assist patients with affording treatment. But the bottom line is that since all patient's circumstances are different, there is no "set" cost for orthodontic care. Your provider can give you a projected total once you've finalized the details of your treatment plan.
#3: Does Getting Braces Hurt?
If you're concerned about potentially experiencing pain due to orthodontic treatment, you shouldn't fret—while there might be some initial irritation or discomfort associated with braces or clear aligners, this distress is temporary and can be managed with several at-home remedies including over-the-counter pain relievers, saltwater rinses, cold compresses, and applying orthodontic wax to any poking or protruding wires or brackets. If you find yourself experiencing severe pain after receiving orthodontics, it's a sign that something's wrong and needs to be addressed!
#4: Are There Specific Foods to Avoid?
If you know someone who's had braces or worn clear aligners, you might remember the list of dietary restrictions and guidelines they were required to follow. Certain items like popcorn, hard candies, and other crunchy, chewy, or sticky items are entirely off-limits for those with metal headgear, and clear aligner patients must remove their trays before eating anything at all. These rules aren't arbitrary by any means; adhering to them ensures that there aren't any setbacks or delays with your treatment.
About the Author
Dr. Gary Cartwright received his DMD from the University of Pittsburgh and has proudly served patients and families in the McMurray and Bethel Park communities for several years. He's proud to offer a wide range of orthodontic services that are certain to help you and your loved ones achieve straighter and healthier smiles that look and feel great. If you have any questions about the blog or you'd like to arrange your consultation, don't hesitate to contact the practice online or over the phone for assistance. McMurray Office Telephone: (724) 942-5130.
Comments Off

on Questions You Should Ask During Your First Orthodontic Appointment
No Comments
No comments yet.
RSS feed for comments on this post.
Sorry, the comment form is closed at this time.