July 12, 2019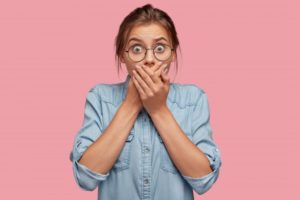 Everyone knows orthodontic treatments come with their own unique problems, but you never thought you'd say the words "I need help! I just swallowed part of my braces." How do you even go about solving that obscure of a problem? Who do you go to for help? How does that even happen in the first place? An orthodontist in McMurray is setting out to answer all of your braces-swallowing questions. Read on to get the lowdown on what to do in case of an orthodontic emergency.
How Can You Swallow Part of Your Braces?
There are a variety of reasons that your braces brackets can come loose and break off in your mouth. Whether you're trying to adjust a loose one, or you give in to temptation and start snacking on sticky and chewy foods—these actions could be just what is needed to break off a bracket, and before you know it, you may have swallowed it. This problem can also happen if you experience any dental trauma, for example, during a sports game or any kind of physical activity.
This risk also applies to patients who have restorations that can come loose, such as crowns and fillings. No matter the case, when you swallow practically any dental object, the same rules usually apply as to whether or not to seek medical attention.
What Should You Do?
While swallowing braces brackets or wires seems like a life-threatening situation that you should panic over, in most cases, it's not as serious as it may seem. 90% of the time, the metal piece that you swallowed will pass through your body on its own. Also, our intestinal tracts contain enough acidity to dissolve small pieces of metal in no time.
Any pieces that aren't dissolved will pass through in as soon as a day after the occurrence. Your best bet is to eat foods with high fiber to help with the process. Just like food, the smooth orthodontic metal piece should break down from the hydrochloric acid and pepsin in your stomach, though.
When Should You Get Help?
The worst case scenario is that if you swallow a bracket, wire, or rubber band and begin having a hard time breathing, it may be caught in your lung. You'll receive an X-ray and your doctor will decide what the best action would be to remove the object. Be sure to also seek help from a medical professional if you experience pain in your stomach after swallowing the bracket because it could be caught in your digestive tract.
After you get the bracket removed, you'll probably need to visit your orthodontist for a replacement. As long you follow these guidelines and tips on when to seek medical attention, you'll remain in tip-top shape, so there's no need to worry!
About the Author
Dr. Gary Cartwright has been providing his patients with straighter smiles for over two decades in Pennsylvania. As a Board-Certified orthodontist, he strives to provide his patients with the high-quality, individualized care they deserve. He's also an active member of the American Association of Orthodontists and a Diplomate of the American Board of Orthodontics. For questions or to schedule an appointment, visit Cartwright Orthodontics' website or contact 724-942-5130.

Comments Off

on An Orthodontist in McMurray Advises What to Do if You've Swallowed Your Braces Bracket
No Comments
No comments yet.
RSS feed for comments on this post.
Sorry, the comment form is closed at this time.