September 20, 2019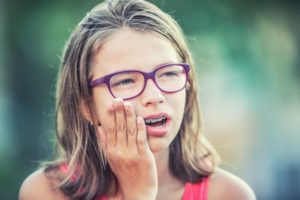 If you have braces, you have to see your orthodontist often for checkups. At these appointments, your orthodontist will adjust the wire that goes around your arch to align your teeth. Sometimes this procedure can result in mild discomfort or pain. Don't worry, this is completely normal. Let's look at 6 helpful tips to ease the pain of getting your braces tightened.
1. Take an Over-the-Counter Pain Reliever
This one might sound obvious, but many people don't think about how helpful it can actually be, especially if you take it an hour before your appointment to get your braces tightened. Be sure to follow the instructions on the pill bottle and not take them too often, only when your pain doesn't subside naturally or if it's really bothering you.
2. Use an Oral Anesthetic
There are some pain relievers, like Orajel, that can be applied directly to your sore teeth and gums to relieve your braces pain. use a cotton swab or your clean finger to place the numbing gel where it hurts. Although it might not taste great, but it helps to alleviate your discomfort.
3. Drink Cold Water
Ice water provides a numbing sensation on sore teeth and gums. It, along with ibuprofen, has been shown to reduce and prevent inflammation.
4. Apply an Icepack
Ice may also reduce swelling and inflammation. Applying an icepack to the outside of your face in your areas of discomfort is a great way to relieve pain.
5. Stick to Soft Foods
For the first couple of days after you get your braces tightened, you'll want to eat only soft foods such as:
Yogurt
Pudding
Soup
Ice cream
Smoothies
Mashed potatoes
Chewing hard or crunchy foods may cause more pain to your sensitive teeth.
6. Be Patient
Getting your braces adjusted may be uncomfortable, but it will definitely be worth it when your treatment is finished. While you're going through this period of discomfort, think of how amazing you'll feel when you finally get your braces taken off and you see a set of perfectly straight pearly whites smiling back at you in the mirror!
Braces pain isn't fun, but by following the steps listed above, you can make it much easier to deal with. If your pain lasts for several days, consult your orthodontist.
About the Author
Dr. Gary Cartwright received his Doctor of Dental Medicine degree from the University of Pittsburgh. He then earned his degree in orthodontics from the University of New York, Stoney Brook in 1995. Nine years later, he achieved a Board Certification from the American Board of Orthodontics and is now a Diplomate of the organization. If you are experiencing pain in your braces, don't be afraid to contact Dr. Cartwright on his website or by calling (412)-568-3022.

Comments Off

on 6 Tips to Relieve Braces Pain
No Comments
No comments yet.
RSS feed for comments on this post.
Sorry, the comment form is closed at this time.